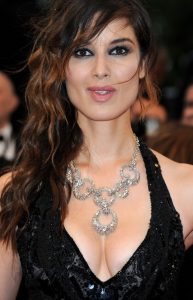 French actress Bérénice Marlohe started her acting career in France, where she debuted in the short film La discordance in 2007. The following year, she had her first television appearance in Pas de secrets entre nous. For the next couple of years, she had roles in several French TV shows and TV movies. In 2012, she appeared in the French feature film Un bonheur n'arrive jamais seul. That same year, she made her international debut playing the role of Sévérine in the James Bond film Skyfall.
Her next role came in 2015 with the American film 5 to 7 where she played the part of Arielle Pierpont. Following this, she starred in the 2016 film Valley of the Gods. In 2017, she played the role of Zoey in Terrence Malick's Song to Song. She later starred in the movies Revolt and Kill Switch, also released in 2017. She's also starred as Beatrice in the Hollywood miniseries The Spoils Before Dying, as well as appeared in an episode of Twin Peaks.
The actress said in an interview that she doesn't follow any diets. Being a foodie, it's hard for her to resist the temptation to eat whatever she wants. "I never make it. I cannot resist more than 3 or 4 days. It's frustrating for me, especially because I am a big-eater, I eat everything," said the French star.
"To compensate the physical work I had to do – I run like ever in the movie – they made me do my favorite diet: pasta and sweet food. I don't cook a lot, but I am a mad foodie, I am very well-known in many restaurants." Still, she makes sure she doesn't overeat. In the end, it's all about moderation and balance. Besides, her meals are mostly composed of healthy foods with plenty of greens and fruits. She also stays away from processed foods.