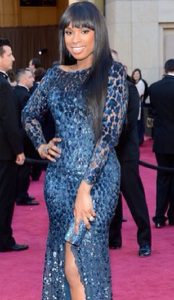 Hollywood star Jennifer Hudson first joined American Idol Season 3 and became one of the finalists in 2004. Later in 2006, she made her film debut as Effie White in Dreamgirls. Her performance was widely lauded, winning the Academy Award, BAFTA, and Golden Globe for Best Supporting Actress. She next played a supporting role, as Louise, in 2008's Sex and the City. That same year, she starred in the film The Secret Life of Bees, after which she starred in 2009's Fragments – Winged Creatures.
Her acting career continued in the 2010s, portraying the titular character in the 2011 film Winnie Mandela. She then appeared in The X Factor as Guest Judge. The following year, she appeared in 3 episodes of Smash playing the role of Veronica Moore. She went on to star in the feature films The Three Stooges, The Inevitable Defeat of Mister & Pete, Black Nativity, and Lullaby, to name a few.
At the same time, she starred in the TV movie Call Me Crazy: A Five Film and played Michelle White in 3 episodes of Empire. Hudson then had performances in the movies Sing and Sandy Wexler. She'll play Grizabella in the upcoming musical film Cats, as well as portray Aretha Franklin in the upcoming biographical movie Respect. Between 2017 and 2019, she also appeared as a coach in both The Voice UK and The Voice U.S.
Jennifer Hudson's major transformation has since inspired people to lead a healthy lifestyle, not just to lose weight but to also feel great from inside out. Losing 80 pounds since then, she maintains her now healthy figure through proper nutrition and workouts. She admits, however, to not exercising as regularly as she want. But she makes it up by simply living an active lifestyle. "I don't work out a lot, but I do like to be active," said the singer-actress.