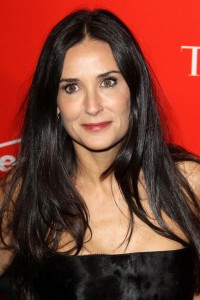 American star Demi Moore started her acting journey in the early 1980s when she was around 18-19. Her first notable role was on television with the medical soap General Hospital. In the next few years, she gained recognition for her roles in the movies St. Elmo's Fire and About Last Night…, but it wasn't until 1990 that she achieved international prominence for starring in Ghost. Since then, Demi has been a well-known personality in Hollywood, particularly in the 1990s with high-profile roles in A Few Good Men, Indecent Proposal, Disclosure, and G.I. Jane. She had a hiatus in the late 1990s, but returned in the early 2000s, most notably in Charlie's Angeles: Full Throttle in 2003. After another hiatus in the mid-2000s, she returned in 2006 and has since been actively acting again, though her projects have been less mainstream and significant. Her latest movie, Forsaken, was recently released in 2016. She also played Miley Cyrus' mom in LOL released in 2012.
The 53-year-old actress may not be as famous as she was before, but she surely still looks gorgeous especially for her age. Being in her 50s, it's also amazing how she has managed to maintain her svelte appearance. Also a mother of three, Demi has maintained her toned figure, which she popularly showcased in Charlie's Angels. Certainly, despite possessing good genes, Demi still needed to prepare for that role extensively. Aside from workouts, she turned to dieting to achieve a svelte physique.
According to reports, Demi practices raw vegan diet to maintain her toned figure. This diet mainly consists of organic vegetables, fruits, green juices, smoothies and soups. The actress eats greens, nuts, and seeds heated below 118°F to preserve vitamins and minerals, which makes her food loaded with more nutrients. A raw diet also ensures quicker weight loss as well as slows down ageing process, which is probably why Demi is younger than her actual age. This is due to the fact the fruits and veggies have flavonoids and carotenoids. These are plant-based antioxidants that fight the free radical damage linked to ageing.