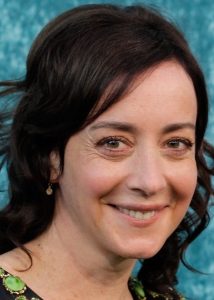 Hollywood star Jane Adams debuted with a small role in the 1985 film Bombs Away. She next made her TV debut in Tales from the Darkside. She secured more roles during the 1990s, appearing in the films Light Sleeper, I Love Trouble, Mrs. Parker and the Vicious Circle, Father of the Bride Part II, and Happiness, among others. At the same time, she had recurring characters on television. She played Karen Lukens in Relativity, Sara Scott in Liberty!, and Dr. Mel Karnofsky in Frasier.
In the 2000s, she first joined the main cast of the TV show Citizen Baines as Reeva Eidenberg, though the show turned out to be short-lived. Adams simultaneously had performances in the films Songcatcher, Wonder Boys, Eternal Sunshine of the Spotless Mind, The Brave One, and Calvin Marshall. From 2009 to 2011, she starred as Tanya Skagle in the HBO series Hung.
For her role here, she received a Golden Globe nomination for Best Supporting Actress. After this, she starred in the movie All the Light in the Sky, which she also wrote. She went on to star in the movies Poltergeist, Always Shine, and Brigsby Bear. Also, she played Annabelle Jones in the comedy-drama series Easy, Constance Talbot in Twin Peaks, Gladys Coleman Pirette in Claws, and Maggie Murphy in Amazon's Sneaky Pete.
Already in her 50s, the actress certainly knows how to take care of herself. With her experience in acting and life in general, she knows better than to deprive her body of nutrition. To sum up, she's already reached a point where eating healthily is natural for her. Her diet plan typically consists of fish, chicken, veggies, and fruits. She keeps it simple by choosing whole foods and avoiding processed meals since they're usually high in sugar and salt. She also keeps herself healthy during work by bringing her own healthy snacks.