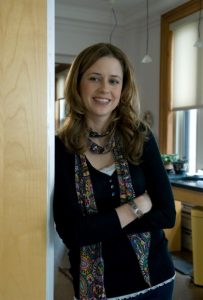 It was in 1998 that actress Jenna Fischer got her start in the world of acting. She made her debut in the movie Channel 493. Her first TV appearance was in Undeclared. This was followed by more one-episode roles on the small screen. She later appeared in the movie Employee of the Month. Afterward, she started playing Pam Beesly in what would become her breakout role in the sitcom The Office.
She starred in the show from 2005 until its finale in 2013. She managed to work in some movies while starring in the series. Some of her works on the big screen include Slither, Blades of Glory, Walk Hard: The Dewey Cox Story, The Promotion, and Solitary Man. At the beginning of the 2010s, she appeared in the movies The Giant Mechanical Man, Hall Pass, and Are You Here. In 2015, she starred in the series You, Me and the Apocalypse. This year, she stars in the sitcom Splitting Up Together.
The actress tries her best to live an active lifestyle. One part of her workout regimen is doing yoga. She said: "When I do yoga regularly, I feel so good. It's my mind, body, and spirit cleanse." She also reveals that yoga is something that her body and mind naturally seek for. She explained: "After a long weekend of play dates and sporting events and kid birthday parties, I can't tell you how much I crave my Monday morning yoga class."
She also added: "As we get started with stretching, the first 20 minutes of every class is usually me fighting my brain to relax, to stop making to-do lists, and to stop making notes on my mental calendar." Before her regular stint on The Office, Jenna admitted that she was more active in terms of performing more intense workouts. She said she trained three times a week with a trainer and that she did exercises that challenged her muscles.