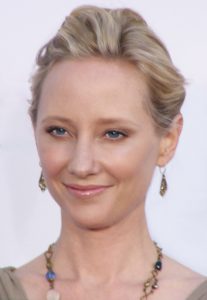 Anne Heche has been acting since the 1980s. Her first work was in the soap opera Another World where she played dual roles Vicky Hudson/ Marley Love. She was a regular cast member from 1987 to 1991. Afterward, Heche started a film career starting with An Ambush of Ghosts, The Adventures of Huck Finn, I'll Do Anything, and A Simple Twist of Fate, among others. She later had supporting performances in the movies Donnie Brasco, Volcano, and I Know What You Did Last Summer.
In 1998, she played the female lead in the adventure-comedy film Six Days, Seven Nights opposite Harrison Ford. She later portrayed Marion Crane in the 1998 remake of Psycho. Later in the 2000s, she had recurring roles as Melanie West in Ally McBeal and Amanda Hayes in Everwood. Also during this period, she had starred in the films Prozac Nation, John Q., Birth, and Spread. She also starred as Marin Frist in the ABC series Men in Trees and Jessica Haxon in HBO's Hung.
In 2013, she starred as the lead in the short-lived series Save Me, as well as played Susan Rodriguez-Jones in The Michael J. Fox Show. Afterward, she co-starred in the miniseries Dig and played Karen Copeland in the Canadian drama Aftermath. More recently, Heche played series lead DIA Dep. Director Patricia Campbell in The Brave. She also played Dep. Superintendent Katherine Brennan in Chicago P.D. Back in movies, her latest work was in the 2019 film The Best of Enemies.
Apart from living an active lifestyle, Anne Heche keeps herself fit and healthy by being mindful of her food choices. She has since cut back on anything processed and only eats salty and sweet foods very occasionally. Already in her 50s, she's made conscious efforts to focus on having clean, whole foods only. The Anne Heche diet typically consists of lean proteins, fruits and vegetables, and healthy fats.