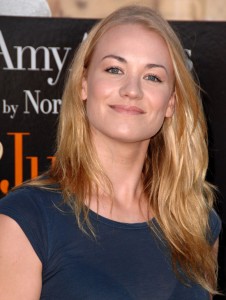 Australian actress Yvonne Strahovski began her acting career in the early 20s, making her debut on Australian television in 2004, with her first substantial role in headLand the following year. After this, she flew to the US to try out for American shows and got lucky after being chosen for the female lead in Chuck, the role that eventually raised her to stardom. She portrayed the character from 2007 to 2012 for five seasons. While working on the show, she continued acting for Australian films. Her Hollywood cinematic debut was in The Guilt Trip released in 2012. She went on to star as the female lead in I, Frankenstein in 2014. She has also recently starred on the television shows 24: Live Another Day and The Astronaut Wives Club.
Though the 33-year-old actress is blessed her amazing genes, it doesn't mean that how she looks is not without any efforts. Having played kick-ass female character in Chuck, she was required to be fit and agile to play her role more effectively. This has since taught her to practice healthy eating habits for good. Being a health conscious, she mostly eats veggies and fruits. Oily foods are a big no-no to her. Though her diet plan is quite simple, it is very efficient as it supplies her body the necessary nutrients it needs, particularly proteins.
The actress has also claimed that it's been more than three years since she's had sugar in her diet. That's how disciplined she is when it comes to her health and wellness. The only way that her body gets sugar is through the consumption of fruits and honey. In addition, it can be noted that Yvonne refuses to consume caffeine. She believes it's something that's really bad for her. Though her strictness over her eating routine may be a bit severe for some, Yvonne said she doesn't feel it is. Following this kind of diet actually leaves long-term effect of being energetic.