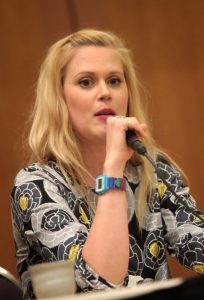 Hollywood star Janet Varney had her career beginnings in the 2000s. In 2003, she had her first movie role in Stuck. After this, she had a brief role in Catwoman, as well as appeared in the Comedy Central show Crossballs: The Debate Show. She next appeared in the TV movie titled Back to Norm. She then landed one-episode roles in some shows, including Free Ride, Love, Inc., Happy Hour, What About Brian, and Halfway Home.
Also, Varney had a role in the film Dante's Inferno, followed by a performance in the film Still Waiting… The latter was released straight to video. At the same time, she had notable guest/recurring roles in Chocolate News, Psych, and Entourage. In 2011, she appeared in the movie Judy Moody and the Not Bummer Summer. She went on to make more guest roles in such programs as The Game and The Exes.
Her first starring role on the small screen was as Carly in Burning Love. She then starred as the voice of the lead actress in the animated series The Legend of Korra. Following her voice acting gig, she starred as Becca Barbara in the FX series You're the Worst. She simultaneously appeared in some episodes of the sitcom Take My Wife, as well as starred as Evie Barret in the shoer-lived series Stan Against Evil. Back in the movies, her latest role was in the animated film Norm of the North.
Staying in great shape has always been a priority for Janet Varney. To do this, she tries her best to be mindful of the food she eats. That's why she has since adopted a gluten-free diet to maintain her healthy weight, as well as her overall wellness. Her diet plan usually consists of fruits and vegetables. With a gluten-free diet, she's cutting back on carbs.