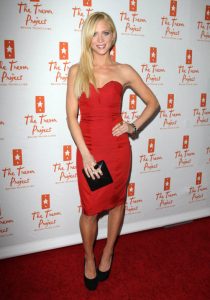 Brittany Snow is an American actress whose Hollywood career started when she was around 12. Her first notable role during this time was in the soap Guiding Light. She was on the show for a couple of years. After the soap, she went prime-time with American Dreams. During the same period, she made her film debut in The Pacifier. Afterwards, she starred in John Tucker Must Die. She also had a recurring role on Nip/Tuck. She later became known for her starring roles in the films Prom Night, Hairspray, and Finding Amanda. Most recently, she starred in Pitch Perfect and its sequel. She has a couple of upcoming film projects like Pitch Perfect 3.
The 30-year-old actress has maintained her svelte figure over the years. Ever since starting out in Hollywood, Brittany has been known for her slender frame. Now that she's in her 30s, she makes sure she becomes more cautious of how she handles her body. Aside from eating right and healthy, she engages in some exercises. Exercises that she thinks are fit for her schedule and lifestyle. Basically, she spends her time on cardio exercises. She likes walking and running, as well as swimming. For her role in Pitch Perfect, she spent a month of dance training.
This really helped her body to keep in shape, though the actress said they were not really asked to be slim. All they needed to do was dance and learn the choreography. The star also revealed that it's hard for her to keep in shape when she's working on a project because she can't keep up with her daily routines. That is why the dance training in Pitch Perfect was a blessing in disguise because that became her exercise. But when she's not working, she resumes her daily workout routine. She likes Pilates and SoulCycle, in fact she takes classes for the two.