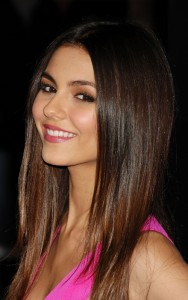 American celebrity Victoria Justice started out as an actress when she was 10. She achieved success on television after landing a main role in the Nickelodeon series Zoey 101. While on the show, she simultaneously ventured into movies, acting in a couple of features, though nothing really huge. Zoey 101 ended in 2008. Two years later, further recognition came for her lead role in another Nickelodeon show Victorious, exposing her to mainstream teen audiences. The show then concluded in 2013. She's still active on the small screen, playing a recurring role in Cooper Barrett's Guide to Surviving Life. She was also the lead in the short-lived series Eye Candy.
22-year-old actress first became a familiar face among teenage audiences. With notable roles in famous Nickelodeon shows, that should be enough for Victoria to be considered a teen idol. Now in her 20s, the television star is more beautiful than ever. Standing at 5'5 1/2, the actress is also known for her slender figure, which has been her natural body since she was a kid. Of course, she's becoming more health conscious as she's getting older.
Aside from her love of dancing and other physical activities, Victoria makes sure she eats healthy to take care of her body. But she does it without being so strict about her foods. She believes she can be healthy and appreciate her food at the same time. For breakfast, she usually eats toast, egg whites, and protein shake made up of rice milk and green veggies. For lunch, she has bacon, which is her favorite, foods rich in protein like tuna and chicken, and green veggies. Her last meal consists of grilled steak, baked potato, and spinach with cream.