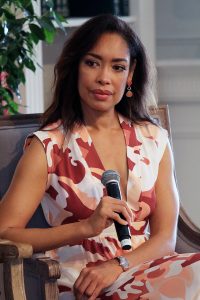 Gina Torres is an actress whose career started when she debuted on Unnatural Pursuits back in 1992. Shortly after, she guest-starred in Law & Order and went on to play the character Magdalena on One Life to Live. Meanwhile, she also ventured into the movies. Her first film role was in Field of Roses released in 1996. She next portrayed Cleopatra in one episode of Xena: Warrior Princess. Plus she guest-starred on Hercules: The Legendary Journeys.
Torres' first starring role on television was as Helen 'Hel' Carter on Cleopatra 2525. However, it was cancelled after two seasons. She became further known when she starred as Anna Espinosa on the ABC series Alias. Her role as Zoe Washburne on the Fox series Firefly also garnered her wider recognition. Having established a prolific career on TV, she had recurring roles on Angel and 24. Simultaneously, she appeared as Cas in The Matrix Reloaded. She reprised her role in Matrix Revolutions.
Afterward, she reprised the part of Zoe Washburne in the Firefly continuation movie Serenity. From here, she had performances in several movies, including Jam, Five Fingers, I Think I Love My Wife and South of Pico. Torres was then cast as Cheryl Carrera on the television show Standoff. Between 2011 and 2018, Torres earned greater fame for starring as Jessica Pearson on the popular series Suits. She currently plays the same role on the spin-off Pearson with her as the lead. Other works on TV include recurring roles as Phyllis 'Bella' Crawford on Hannibal and Justine Diaz on The Catch.
The actress is always motivated to exercise. "I work out so I can feel good," said Torres. "Sometimes I hit it hard; sometimes it's just about getting it in." The Gina Torres workout routine is not only for maintaining her slender figure, but also for improving her strength. To sump up, exercising is the actress' way of self-care. "With working out, it's about strength — being able to run up the stairs and just feeling like I can get myself out of a situation," said the Suits actress.