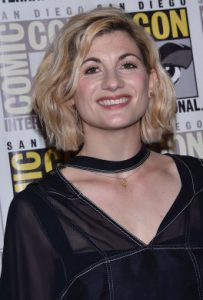 Jodie Whittakers has been acting since 2006, debuting in the film Venus. Playing the role of Jessie in the movie, she received some nominations, including the British Independent Film Award for Most Promising Newcomer. That same year, she also appeared in an episode of The Afternoon Play and Doctors, as well as played Kristy Richards in 2 episodes of Dalziel and Pascoe.
She next starred as Beverly in the movie St Trinian's, reprising her role in the sequel St Trinian's 2: The Legend of Fritton's Gold. At the same time, she starred in the miniseries Tess of the D'Urbervilles and Wired. In the 2010s, she had performances in the films The Kid, Attack the Block, One Day, Good Vibrations, and Ashes. She also played Ruth Bowen in 5 episodes of Marchlands. She then became widely known for starring as Beth Latimer on the crime drama series Broadchurch.
She simultaneously starred as Sandra Grimes on The Assets and Trish Tooley on The Smoke. She went on to land the role of the Thirteenth Doctor in the long-running BBC series Doctor Who, which she has been playing since 2017. She also starred in the film Adult Life Skills, getting her a nomination for the British Independent Film Award for Best Actress. Her latest film role was in 2017's Journeyman.
Apart from her healthy diet plan, the English actress stays in shape by exercising on a regular basis. No matter how busy she gets, she makes sure she squeezes some workout in. "On my days off I do loads of exercise, rather than eat less, to look a little drawn for my role in Broadchurch," said Whittaker in an interview. Her fitness regimen is a combination of cardio and a bit of strength training. She's also tried barre classes as well as yoga. She likes to mix things up in order to make things exciting.