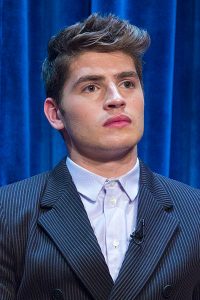 British actor Gregg Sulkin had his professional acting career in the early 2000s. He debuted in the TV miniseries Doctor Zhivago in 2002. His next role was in the television special Man on the Moon. At the same time, he made his cinematic debut in the 2006 film Sixty Six. A few years later, he appeared in the movie The Heavy. He then starred as JJ in the Disney Channel UK series As the Bell Rings, which he was in from 2007 to 2008.
Afterward, he appeared in 2 episodes of The Sarah Jane Adventures. In 2010, he starred in the Disney Channel Original Movie Avalon High. He became known for his recurring character as Mason Greyback in Disney's Wizards of Waverly Place. He simultaneously had performances in the films Camilla Dickinson, White Frog, Another Me, and Affluenza. He also had recurring roles in Melissa & Joey and Pretty Little Liars.
Also, Sulkin reprised his role as Mason Greyback in The Wizards Return: Alex vs. Alex, as well as starred in the TV film A Daughter's Nightmare. Between 2014 and 2016, he starred as Liam Booker in the MTV series Faking It. He next guest-starred in Life in Pieces and Young & Hungry. As of 2017, he stars as Chase Stein in the Hulu series Runaways. Other film performances were in Anti-Social, Don't Hang Up, and Status Update.
Gregg Sulkin underwent physical training to prepare for his role as Chase Stein in Runaways. Prior to that, the actor admitted he was in the worst shape of his life. But being part of a superhero web series means he needed to get started on improving his form and strength. "After being cast, I had to force myself to have a celery stick instead of cake," said the actor.
At the time, his goal was to build muscle and work on his core. To achieve this, one of his go-to workouts was a two-minute plank. "It attacks the core, it's perfect for getting a quick ab workout in, along with a series of planks and burpee sets," he explained. He added: "I focus on bicep curls and 21's for arms, but I change it up. It's important to adjust your routine so your body doesn't become accustomed to it."