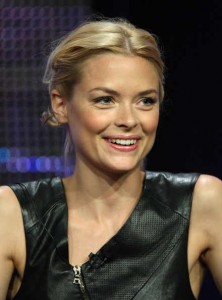 American model and actress Jaime King was discovered when she was 14, which led her to become a model. She built a prolific career as one, getting featured on prominent magazines like Vogue and Harper's Bazaar. After a successful run as a fashion model, Jaime decided she wanted to do something different, so she pursued acting. She began doing so in the early 2000s with appearances in the films Blow and Pearl Harbor. After acting in the comedy feature White Chicks and the black comedy film Pretty Persuasion, she gained widespread recognition for playing twins Wendy and Goldie in Sin City. She next starred in the hit comedy Cheaper by the Dozen 2. Several film project followed such as The Spirit and My Bloody Valentine 3D. She was also a prolific television actress as well with her most notable role as Lemon Breeland in Hart of Dixie (2011-2015).
Standing at 5'9, former model Jaime King was able to maintain her slender physique after all these years. Now 36, she still looks fabulous as ever. Her secrets? One is keeping her meal portion small. If your portions are small, you eat less. You enjoy your food more slowly and deliberately. If you do this often, you'd be surprised that it doesn't take you a lot to be full. Of course, Jaime drinks lots of water, which keeps her refreshed all the time. This also flushes toxins out of her body. In addition, adding spices to food is not a bad thing.
Adding such flavors through the use of herbs, seasonings, and pepper to her food gives her metabolism a boost. Then there's the fact that Jaime is very fond of veggies, especially the green ones. Dark, leafy green vegetables like kale, spinach, and arugula are especially rich in vitamins and minerals. Jamie also makes sure she consumes sufficient fiber by eating whole grains, beans, and lentils. Foods rich in fiber actually trick your tummy into thinking you're full. Lastly, Jamie stays away from foods containing lots of sodium like fast-food, salty snacks, and carbonated drinks. Snacking on pineapples and yogurt also helps Jamie with her digestion.