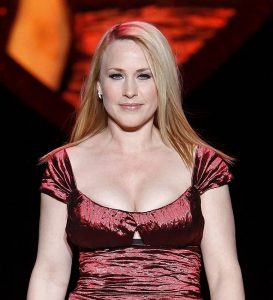 Patricia Arquette's career in Hollywood spans decades beginning in 1987. Her first role was as Kristine Parker in the film A Nightmare on Elm Street 3: Dream Warriors. During the 1990s, she appeared in the movies Prayer of the Rollerboys, The Indian Runner, True Romance, Ed Wood, and Flirting with Disaster. She then co-starred in David Lynch's Lost Highway in 1997. After this, she starred in the films Nightwatch, Goodbye Lover, The Hi-Lo Country, Stigmata, and Bringing Out the Dead.
She continued her film career in the 2000s with Little Nicky, Human Nature, The Badge, Holes, Tiptoes, Fast Food Nation, and A Single Woman. It was also during this period that she came to wider prominence courtesy of her lead role of Allison DuBois in the NBC series Medium. She earned the Primetime Emmy Award for Outstanding Lead Actress in a Drama Series for her work in the show. Arquette also received Golden Globe Award and Screen Actors Guild Award nominations.
Following the series finale in 2011, she had performances in the films Girl in Progress, A Glimpse Inside the Mind of Charles Swan III, and Vijay and I. In 2014, she starred in the acclaimed film Boyhood. Back on TV, she also became known for her roles as Sally Wheet in Boardwalk Empire and Avery Ryan in CSI: Cyber. More recently, she starred in the limited series Escape at Dannemora, which premiered on Showtime. Also, she played Dee Dee Blanchard in the Hulu series The Act.
Patricia Arquette has never followed any strict diet plans to lose weight. In fact, she revealed in an interview how she was asked to lose weight for her role in Medium, which didn't happen. The pressure of staying slender in Hollywood may be high, but the actress has never allowed herself to be swayed by such expectations.
Of course, there are some instances when she needs to shed pounds or even gain weight for certain roles. Overall, she doesn't implement any dietary tricks. She only keeps herself healthy by eating right and that doesn't include too many limitations. Her regular diet includes lean mean, whole grains, and lots of fruits and veggies.