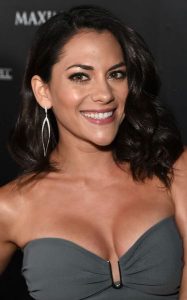 Actress Inbar Lavi had her career beginnings in the late 2000s. Initially, she landed one-time roles in various television shows. This includes one-episode parts in Privileged, The Closer, Entourage, Ghost Whisperer, Criminal Minds, and Crash. In 2010, Lavi had her first movie role in Abelar: Tales of an Ancient Empire. She also had guest appearances in CSI: Miami, In Plain Sight, and Charlie's Angels.
In 2012, the actress then starred in the television film Immigrants. That same time, she guest-starred in CSI: Crime Scene Investigation. Lavi's first starring role on TV was as Raviva in the short-lived series Underemployed. After this ended, she starred as Veronica "Vee" Dotsen in the Fox series Gang Related. The Israeli beauty also had one-time parts in Sons of Anarchy and Castle. In 2015, she had a recurring character playing Ravit Bivas in The Last Ship.
Finally, she got her first lead role as Maddie in the Bravo series Imposters. It was however cancelled, then she played Sheba in Prison Break and Eve in Lucifer. As a movie actress, she starred in the straight-to-video film Street Kings 2: Motor City. Lavi also starred in the feature films Getting That Girl, Underground, For the Love of Money, House of Dust, and The Last Witch Hunter. Her most recent film was 2018's Sorry for Your Loss.
Inbar Lavi takes care of herself by eating healthily and staying active. "I consider my body my temple and everything that I put in my body is my fuel and it's what will ultimately bring out whatever result I want for my work, life, and for my headspace," said the actress. "I try to eat very healthy and I exercise regularly. I do a lot of pilates—that keeps me grounded and keeps my breath in the right place. I have good friends, a good support system. Those are my tricks."