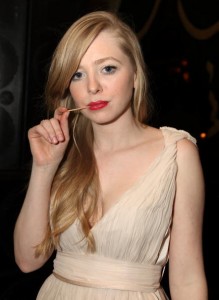 American actress Portia Doubleday began her acting journey when she was only 10 though she did not really continue acting as a child. She instead returned several years later when she was already in her 20s, beginning in the movie Youth in Revolt released in 2009. She was next cast for a main role in the sitcom Mr. Sunshine, though it was immediately cancelled after one season. She then became further known among mainstream audiences when she played a supporting role in the 2013 remake of Carrie. Around the same time, she acted in the acclaimed movie Her. Now, she's best known for her role starring role in the critically acclaimed television series Mr. Robot. It was also in 2015 that she had her first lead role in a movie for starring in After the Ball.
Standing at 5'6, the 27-year-old actress' career is taking an interesting turn. From a couple of notable performances on the big screen, and for her remarkable character in Mr. Robot, Portia's future in the show business is surely promising. As she becomes busier in her work as an actress, she needs to observe a healthier lifestyle, which she does by trying to eat healthy regularly. Some would think that the actress doesn't exert any effort in managing her health because she's already skinny, but eating healthy is not just about losing weight, it's also about being strong and lean.
With this, the actress makes sure she balances her eating habits. She does not allow herself to eat unhealthy foods all the time as she knows this will have a negative effect on her body eventually. She makes sure she has nutritious foods while allowing herself to have a cheat day to eat her cravings. Mostly, her source of vitamins and minerals are dark green veggies like broccoli. Since her body also needs proteins, she opts to eat chicken and fish as well. If there's one thing she's so fond of, it's maple syrup and citrus toffees.