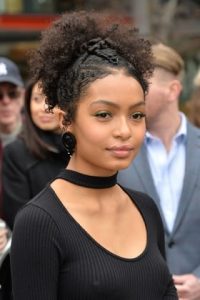 Hollywood star Yara Shahidi had her career beginnings in the late 2000s. The first acting role she landed on screen was as Kandace West in an episode of HBO's Entourage. She later played the part of Olivia Danielson in the film Imagine That, which marked her cinematic debut. At the same time, she had a 5-episode role as Esther in the ABC sitcom In the Motherhood.
At the beginning of the 2010s, Shahidi had roles in the films Salt, Unthinkable, and Butter. She next played the role of Janelle Cross in the crime thriller film Alex Cross. Following this, she starred as Chloe Johnson in the sitcom The First Family. She also had a notable guest role in Scandal, playing the Young Olivia Pope in 2 episodes of the show. She later played Maddie, also in 2 episodes of The Fosters.
The actress had her breakthrough after successfully auditioning for the role of Zoey Johnson in the sitcom Black-ish. For her work here, she received Teen Choice Award nominations. The popularity of the show and her character led her to having her own spin-off show Grown-ish, which she has been starring in since 2018. She recently starred as Natasha Kingsley in the teen drama film The Sun Is Also a Star.
Even at a young age, Yara Shahidi considers healthy eating as part of her day to day. Eating well is also a major part of her skincare, which, as an actress, is pretty much important. "There is this focus on skincare and having a great base that I've learned from both sides of my family. That starts with eating well," said the actress. "Juicing is another huge thing I do to eat well. The juices I make usually feature a lot of ginger, a lime or a lemon, beets, kale, mint, and turmeric, and sometimes a carrot if I'm feeling sweet."
As for her regular meals, she shared: "Being half black and half Iranian, I'd like to think that I hit the cultural food jackpot. Growing up we ate a lot of chicken kebab and my baba—which means dad in Farsi—always kept a vegetable garden, so we also ate a lot of fresh salads. There's no such thing as a bad meal in our house."