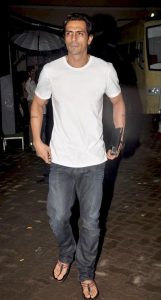 Indian actor Arjun Rampal had his career beginnings in 2001, when he initially starred in the romance film Pyaar Ishq Aur Mohabbat. In the next couple of years, he had starring roles in several films. These include Deewaanapan, Dil Hai Tumhaara, Aankhen, Dil Ka Rishta, Vaada, Yakeen, I See You and the action film Asambhav. He also starred in the musical drama Rock On!!, which got him acclaim.
For his performance in the movie, he won numerous awards, including the National Film Award for Best Supporting Actor. He also won the Filmfare Award for Best Supporting Actor. His other successful films in the 2000s were in Don and Om Shanti Om. He continued his prolific Bollywood career in the 2010s. During this period, Rampal has had performances in the films Housefull, Raajneeti, Ra.One, Chakravyuh, D-Day, Inkaar, and Roy.
In addition, Rampal also reprised his role in the sequel Rock On!! 2 but the film didn't match the success of its predecessor. He then starred in the movie Kahaani 2 where his performance was well-received. In 2017, he starred in the biopic Daddy where he portrayed gangster-turned-politician Arun Gawli. Despite its poor performance at the box office, Rampal's acting in the film received good reviews. He'll star in the upcoming film Nastik.
Arjun Rampal maintains his ripped body by sticking to a regular workout routine. While he follows a fitness regimen with discipline and diligence, he also makes sure he mixes things up to make his workouts more fun and challenging. Apart from attending his gym trainings, he also simply stays active by going cycling, jogging, walking or swimming. He also plays sports and engages in other outdoor activities whenever he can.
As an actor, his training also depends on the part he plays in the movies. For instance, his role in the superhero film Ra.One prompted him to further develop his body and his overall strength. It was reported that the actor spent 2-3 months to train. During this period, his fitness regimen consisted of cardio like running and some stretches. He next performed warm-up exercises that focused on his lower back. The highlights of his workout routine were doing 2500 situps and 8 sets of Tabata. Rampal also incorporated yoga into his fitness routine.