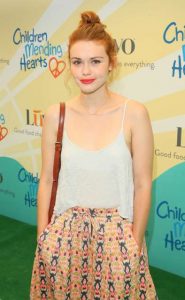 It was in 2004 that Hollywood star Holland Roden started her acting journey. She made her debut in a short film. Her first television role was in an episode of CSI: Crime Scene Investigation. She next appeared in three episodes of 12 Miles of Bad Road. She next guest-starred in the shows Lost and Cold Case. Her first movie was in Bring It On: Fight to the Finish. In the 2010s, she rose to mainstream fame thanks to her role as Lydia Martin in Teen Wolf.
Her role here won her a Choice Summer TV Actress at the Teen Choice Awards in 2017. While on the show, she made her cinematic debut in the movie House of Dust. She's also guest-starred in other shows. This includes Grey's Anatomy and Lore. More recently, she stars in the new series Channel Zero: Butcher's Block. In addition, she has also appeared in some music videos, such as The Lighthouse and The Whaler's single "I Want To Feel Alive".
The 31-year-old actress stays in shape by sticking to an active lifestyle. She loves to keep her body moving. She exercises as regularly as possible and she likes keeping her heart rate up. She does this not only to maintain a slender figure but to also maintain her overall health and well-being. In an interview, the Teen Wolf star said she prefers doing mixed workouts. She loves mixing things up to prevent herself from feeling bored. Of course, variation is also great for the body rather than doing the same for of workouts all the time.
She said: "I dance. I go rock climbing. I surf. My siblings go out for three or four hours, and then they're done, but I could surf all day long. I love when exercise sneaks its way in. I took a piloxing class the other night, and it's my new favorite thing. It's ballet and kickboxing, with a little bit of jazz and hip-hop—all while you're wearing these weighted boxing gloves. You get the best workout, but it's so much fun."