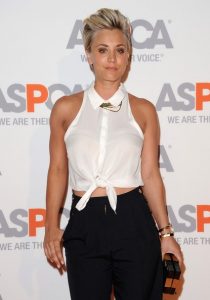 Hollywood actress Kaley Cuoco is a television staple thanks to her knack for comedy. First becoming known as Bridget Hennessy on the ABC sitcom 8 Simple Rules, she continued her fruitful career on the small screen with her role as Billie Jenkins on the popular series Charmed. After her stint on Charmed ended, she was cast as Penny on The Big Bang Theory, a comedy series airing on CBS. The show has since received universal success, making Kaley a greater star. For her role, she won a Critics' Choice Television Award in 2013 and People's Choice Award the following year, making her a crowd favorite. With this fame, she landed roles in movies, too, such as in To Be Fat like Me, Hop, and Authors Anonymous.
The Big Bag Theory's Penny has never become complacent when it comes to her health and fitness. Being in show business, there can be lots of temptations but the actress knows better. She knows that practicing healthy habits, such as dieting and exercising can do better to her overall well-being. So, aside from eating healthy to preserve her beautiful self, she also works our as regularly as she could.
How does she achieve her killer physique? She train up to three times a week for one and a half hours. Basically, she focuses on improving her abs, arms, and butt. To address this, her training usually consists of sets which would involve three to six different exercises or circuits. For instance, her circuit would contain 10 reps of close-grip pushups, 30 seconds of planks, 20 seconds of mountain climbers, and 15 reps of squat jumps, which she would do with no stops for three rounds. For two minutes, she'd rest and resume to complete the three rounds one more time. One of her favorite abs exercise circuits involves a BOSU Ball sit-up to squat jump, plank jumping jacks, and alternating prone dumbbell tricep kickbacks on the floor.