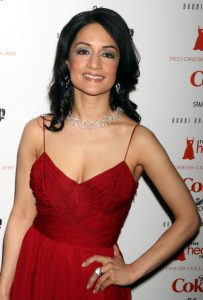 Acclaimed actress Archie Panjabi has been acting since the 1990s. Her debut was on the TV show called Siren Spirits. She next appeared in an episode of The Thin Blue Line. In 1999, she had her first big screen role in the film East is East. Afterward, she joined the main cast of the short-lived British sketch comedy show Brand Spanking New Show. She later starred on the less known TV program Grease Monkeys.
In 2002, she became known for her role as Pinky Bhamra in the box-office hit Bend It Like Beckham, after which she played the title role in the film Yasmin. She subsequently had supporting roles in Chromophobia, The Constant Gardener, A Good Year, Flying Lessons, Traitor, and A Mighty Heart. Back on TV, she had notable roles as Megan Sharma on BBC's Sea of Souls, Meera Baines on Postman Pat, and Jane Lesser on Personal Affairs.
Her major breakthrough was as Kalinda Sharma on the CBS series The Good Wife. She won a Primetime Emmy for her performance in 2010. She simultaneously played Professor Reed Smith on the British show The Fall. After The Good Wife, she played Preeya on Power Monkeys. Since 2016, she plays Nas Kamal on the NBC series Blindspot. She's also had roles in the films The Disappearance of Eleanor Rigby, I Origins, and San Andreas.
Apart from her healthy diet plan, the British-Indian actress stays fit by keeping herself active. "I do a lot of walking, although occasionally I will run, as well as regular meditation and some yoga", said the actress. "I don't have a trainer, but one of my friends is one and she taught me a bunch of strength-training moves so I can do it on my own." She also shared how she loves peaceful exercise, which is why she's fond of yoga. As for her on-the-go workout, she said it'd be walking as she can do it wherever.