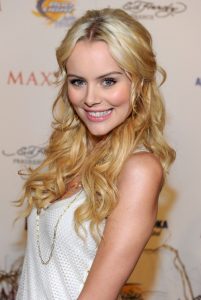 Helena Mattsson is a Swedish actress who currently works in Hollywood. Nonetheless, she got her start in her native Sweden, debuting in the 2004 film Drowning Ghost. Her first television role was on the TV movie Sweden, Ohio. Soon, she started a career in the US, guest-starring on the shows Sex, Love & Secrets, CSI: NY, and Kitchen Confidential. She next made her first Hollywood film in Americanizing Shelley. During this period, she starred as the lead in the direct-to-video film Species – The Awakening. Following this, she had roles in the movies Surrogates, Short Track, and Nobody.
She also had guest appearances on CSI: Crime Scene Investigation, Cold Case, Two and a Half Men, Rules of Engagement, and NCIS: Los Angeles. She continued her career in the 2010s, appearing as Rebecca in the movie Iron Man 2. She went on to have roles in the feature films You and I, The Babymakers, Guns, Girls and Gambling, and Seven Psychopaths. From 2012 to 2013, she starred as Alexis Blume on the short-lived ABC series 666 Park Avenue. Afterward, she played recurring character Brandy Korskaya on Betrayal and guest role Greta Jager on Mistresses. She then played the part of Agnetha in American Horror Story: Hotel. More recently, she had roles in the movies Code of Honor and Smartass. She will star in the upcoming TV movie My Dinner with Hervé.
The 34-year-old actress stays in shape by following a clean diet plan. Basically, she does not consume processed foods. Instead, she relies on clean, whole foods to keep her energy levels high and just to feel good overall. Her diet plan primarily consists of whole grain cereal or oatmeal for breakfast with fruits on the side. For lunch and dinner, she either has fish or chicken with vegetable salad. She always incorporates veggies into her meals. She allows herself to eat whatever she wants but only in moderation.