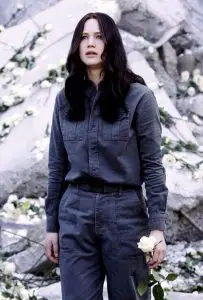 Jennifer Lawrence is an American actress who began her career on television and later in indie movies. She was first recognized for her lead performance in Winter's Bone, which got her an Academy Award nomination for Best Actress. This proved to be a significant break on her career, landing another lead role in Silver Linings Playbook, which ultimately won her her first Oscar for Best Actress. With this, Jennifer became an A-list star, in addition to her playing the role of Mystique in the X-Men films. She was again nominated for an Oscar for Best Supporting Actress for her performance in American Hustle, and then again another Best Actress nomination for her performance in Joy. However, it was her role as Katniss Everdeen in The Hunger Games that earned her international fame.
The award-winning actress is undoubtedly one of the most beautiful and talented stars in Hollywood right now. Only in her mid 20s, she has achieved some great things that are rare for someone as young as her. What makes her more noticeable is her radiance and appealing figure. Although she's not your ordinary skinny young woman, Jennifer is fit and healthy and is proud of her body. She does not aspire to be so thin as she doesn't want to engage in any unhealthy diet. As for her workout routine, the actress exercises as regularly as she could.
With her role as the heroine in The Hunger Games film installment, it became more crucial for the actress to have a disciplined workout routine to make sure she stays fit and lean to effectively play her action scenes. Basically, her trainer worked with her initially with sprints, stationary bike rides, archery lessons, and rock and tree climbing with the stunt crew to prepare for The Hunger Games. Cardio was also an important part of her routine as it basically improves one's stamina, endurance, and overall health. As for Jennifer, skipping was her go-to cardio routine.