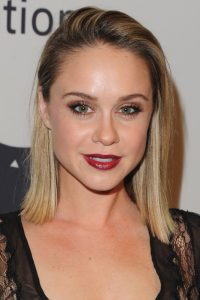 American actress-singer Becca Tobin began her acting career on the stage. She made her screen debut in an episode of Wiener & Wiener. Her stint as Sherrie Christian on the Broadway production of Rock of Ages led her to be cast as Kitty Wilde on Glee. She was on the show from 2012 until its finale in 2015. This gained her significant attention among TV audiences. Simultaneously, she had guest appearances on the TV shows Drop Dead Diva, Mystery Girls and NCIS: Los Angeles. Her latest role was on the series called SINs. She will appear in the film Before You Say I Do.
The petite actress is a natural as a performer. This also helps her to maintain her slender figure. Being in her 30s, the Becca now realizes the importance of healthy eating now more than ever. She understands the health consequences if she doesn't take care of her body by eating right most of the time. Because she's experienced the benefits of eating healthy, she intends to keep it that way. Of course being a food lover she has indulgences all the time. In order to keep herself happy, she allows herself to eat the foods she likes as long as she does so in moderation.
She starts her day with a healthy breakfast that usually consists of eggs, oats, or wheat bread. She likes snacking on fruit and vegetable shakes as these keep her full and energetic at the same time. For lunch, she opts fish or chicken for its protein content alongside veggies for fiber. She goes light for dinner, settling on a sandwich or a bowl of great pasta. As much as she could, she also likes to make her own food. This way she gets to choose healthy ingredients. She likes snacking on nuts, fruits and yogurt. She also indulges her cravings. She believes that banning some foods you love from your diet would make you unhappy and increase the tendency for binge-eating.