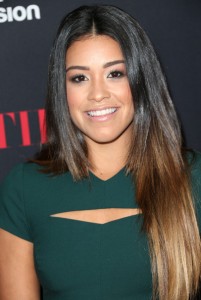 American actress Gina Rodriguez is now a television staple, thanks to her mesmerizing portrayal of the lead role in the comedy-drama Jane the Virgin. Prior to this huge success, she was already a prolific performer on the small screen, making her debut in 2004 when she was in her early 20s. It wasn't easy for the actress who was just starting out as it took her a couple of years before she landed a recurring part in Army Wives in 2010. Subsequently, she secured a more significant role in the soap opera The Bold and the Beautiful. But of course, it wasn't until her lead role in Jane the Virgin that she got her major breakthrough. Her performance on the show was widely acclaimed that she even won a Golden Globe for Best Actress in 2015 in the musical/comedy category. This sure was a big step from her humble beginnings in the show business.
The 32-year-old actress is one of the talented stars who defies the standard of body image in Hollywood. For this, she becomes more beautiful and special in the eyes of her fans and admirers. Gina, however, admits that it wasn't easy struggling with her body image and accepting herself, but she finally did! Now, she's an award-winning actress in a hit show. Although she's not very slim compared to other actresses, Gina actually is very active and sporty. In fact, she loves boxing since her father used to be a professional referee.
Aside from being mobile and outgoing, Jane takes care of herself and stays in shape through healthy eating. Diet, for her, is not to lose weight to be super slim. It is to practice clean eating to feel good inside and out. For her, healthy eating is an absolute priority. She likes to eat healthy on set and she also keeps everything in moderation. She sometimes jokes about eating pizza until she falls asleep, but truth is, she practices portion control always. Because of her Puerto Rican roots, she also loves to eat Puerto Rican foods.