Dancing Career and Success with Glee
Heather Morris was born on February 1, 1987 in Thousand Oaks, California. She grew up in Scottsdale, Arizona. At the age of nine, she began dancing and at a young age, competed in a variety of styles including tap, jazz and contemporary. When she was 14, her father died of cancer.
Following her graduation from Desert Mountain High School, she enrolled in a local university but later realized that she was in the wrong place. She then decided to move to Los Angeles at the age of 19. Morris' first substantial appearance was in the second season of the reality show So You Think You Can Dance where she made ther "green mile" but didn't make it up to the final 20.
In Los Angeles, she continued to pursue a career in dance. She also further trained in jazz. Her big break came in 2007 when she was chosen as one of Beyoncé's backup dancers on The Beyoncé Experience world tour. She worked again with Beyoncé in her Single Ladies (Put a Ring on It)" promotional tour. This included performances in the American Music Awards, Saturday Night Live, The Ellen DeGeneres Show, Today and MTV's Total Request Live finale.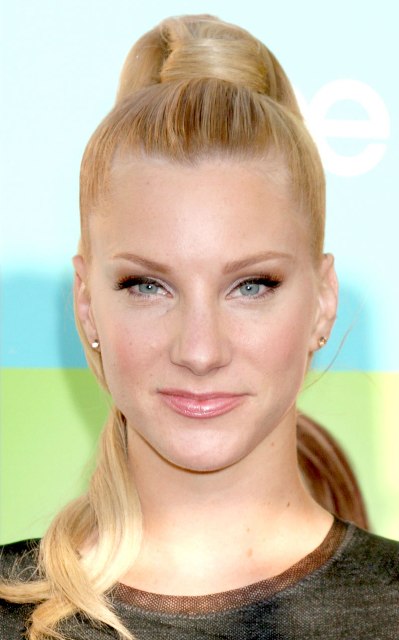 Her prolific dancing career continued as she danced backup for Beyoncé and Tina Turner at the 50th Annual Grammy Awards in 2008. That same year, she appeared in a minor role in the movie Fired Up!, where she met choreographer Zach Woodlee.
Woodlee then brought her to dance in other shows he was choreographing, including episodes of Eli Stone and Swingtown. Her discovery in Glee began when she was asked by Woodlee to teach the choreography for Beyoncé's "Single Ladies" dance to the Glee actors.
During this time, the show was also looking for a third cheerleader, so she ended up the role of Brittany Pierce. Her role was initially as a background character who hardly ever spoke, but her character was further developed when Glee writers discovered that Morris had a gift for delivering one-liners.
Her performance in Glee garnered good reviews with Jarrett Wieselman of the New York Post saying that Morris "emerged as one of the funniest second bananas on TV right now". The LA Times also wrote about having a "comedy crush on Morris, who plays the galactically dim Glee Club cheerleader Brittany".
Her role in the show became more popular during the last nine episodes of the first season and due to overwhelming positive response for her performance, she was promoted to become a series regular for the series' second season. After her solo where she made her singing debut covering Britney Spears' "I'm a Slave 4 U", she performed many other dancing and singing solos in the show.
Other Works and Plastic Surgery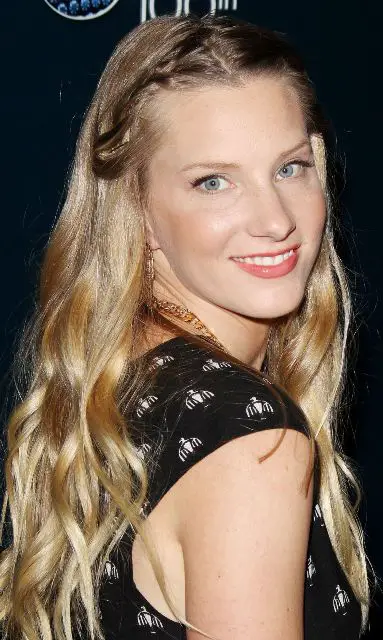 In 2011, she reprised her role as Brittany Pierce in Glee: The 3D Concert Movie. The following year, she lent her voice for the role of Katie in the animated feature Ice Age: Continental Drift. She was then cast in a supporting role in the 2013 film Spring Breakers alongside Selena Gomez, Vanessa Hudgens, Ashley Benson, Rachel Korine and James Franco.
The film received good reviews from critics with some already calling it a cult classic. It went on to earn $31 million against its $5 million budget and is considered a financial success. It was also chosen to compete for the Golden Lion at the 69th Venice International Film Festival.
She has also appeared in other television shows like How I Met Your Mother and Punk'd and in several music videos for An-Ya's "Nightlife", The White Tie Affair's "Allow Me To Introduce Myself… Mr. Right/Candle (Sick and Tired)", Hit the Lights' "Drop the Girl, and Leo Moctezuma's "2 Da Left".
In the October 2011 issue of Fitness magazine, Morris also confirmed the reports that have plagued her career ever since she came into the spotlight; that she had breast implants when she was younger. But this time, the singer-dancer-actress is also saying that she has had her breast implants removed already.
In her interview with the magazine, not only did she confirm the rumors but also conceded to the fact that it was a mistake on her part. Her admission made an impression as she had previously denied undergoing any cosmetic procedures. According to Morris, her bigger chest was too painful and that it was difficult for her exercise and dance. This prompted her decision to have them taken out.
She further explained: "Implants were something I thought I wanted when I was younger, and now I don't," she said. "It was hard being active with them, my chest was always sore. It hurt a lot, and I didn't like being in pain – so they had to go!"