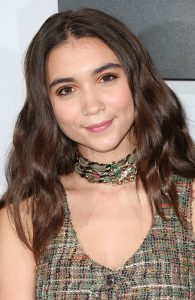 Hollywood actress Rowan Blanchard had her career beginnings in the early 2010s. She made her film debut in The Back-up Plan and had her first television appearance in Dance-a-Lot Robot. She next appeared in the films Little in Common and Spy Kids: All the Time in the World.
Her landing of the role of Riley Matthews in Girl Meets World was her first break. At the same time, she appeared in the show Best Friends Whenever. She went on to star in the Disney Channel Original Movie Invisible Sister. After Girl Meets World ended in 2017, she started playing a recurring role on the television series The Goldbergs as the character Jackie. Next year, she will appear in the movie A Wrinkle in Time.
The 16-year-old actress reveals she doesn't do any diets since she's just a teenager. She blurted this out after being repeatedly asked by reporters about her diet secrets and diet tips she could give to other teenage girls like her. Responding, she said: "Someone recently asked if I had any dieting tips for other teenage girls. I mean, come on. I don't diet! I'm thirteen! Nobody my age should be dieting or trying to change themselves because society says so. And seriously, I'm thirteen! The only 'dieting tip' I have is, like, 'If you don't order fries, you'll probably be mad."
She also talked about how strict body images in Hollywood negatively influence teenage girls. She said: "It's inappropriate on so many levels. That makes other girls hate themselves or have eating disorders." She continued: "Girls tweeted me after [the] Christopher Kane [show] being like, 'Rowan, I liked the clothes, but all the models were this one way.' And I have to be like, 'You don't have to be that one way! You be you.'" Wise words from a teenager.