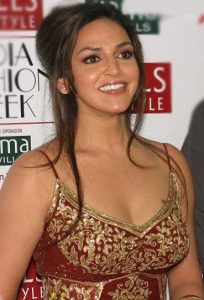 Indian celebrity Esha Deol had her career beginnings a decade earlier. She made a strong impression in her debut in Koi Mere Dil Se Poochhe. For her work here she received a Filmfare Award for Best Female Debut. Subsequently, she starred in several other Bollywood movies. She gained further fame for starring in LOC Kargil, Yuva, and Dhoom. She also made her Tamil debut in Aayutha Ezhuthu. Following this, she made notable performances in Main Aisa Hi Hoon, Dus, and No Entry, among others. After starring in the 2008 films One Two Three and Hijack, she took a break from acting. She returned in 2011 with the movie Tell Me O Kkhuda. Her most recent films were 2015's Care of Footpath 2 and Kill Them Young.
The 36-year-old actress remains lean with her toned physique, thanks to her healthy eating habits. She understands the importance of proper nutrition. Even though she already has an active lifestyle and a regular fitness routine, it is still important to eat a balanced diet. This is something that she incorporates in her lifestyle. She mostly focuses on eating lean proteins, whole grains, and fruits and vegetables. She also doesn't overeat as portion control is something she follows.
Talking about her preparation for the movie Dhoom, which is one of Bollywood's greatest commercial hits, Esha shares her lifestyle changes to not only look great, but to also feel great. She said in an interview: "I've also realised the importance of eating right and avoiding oily, fatty food." Processed and junk foods are mostly high in fatty acids. This is the reason the actress avoids eating them as much as possible. Not only are they not good for her weight, they'll also cause unpleasant effects to her overall health. Considering she's nearing her 40s, she knows she needs to take care of herself even more.