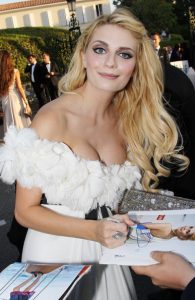 Hollywood star Mischa Barton had her career beginnings in the mid-1990s. She debuted in an episode of the soap opera All My Children. Her first recurring role was on the show KaBlam! In 1997, she made her big screen debut in the film Lawn Dogs. She next played Kyra Collins in The Sixth Sense. In the 2000s, she first played Katie Singer on Once and Again, as well as had roles in the movies Paranoid, Skipped Parts, Lost and Delirious, Julie Johnson, and Tart. She gained mainstream success after landing the role of Marissa Cooper on the television series The O.C. She starred on the show from 2003 to 2006.
Following this, she had performances in the films St Trinian's, Virgin Territory, Assassination of a High School President, and Homecoming. She later starred as Sonja Stone on the short-lived series The Beautiful Life: TBL. In the 2010s, she had roles in the features Don't Fade Away, Into the Dark, Ben Banks, A Resurrection, and Hope Lost, among others. She later joined Dancing with the Stars' Season 22 as a contestant. This year, she had roles in the films The Basement, The Toybox, Ouija House, Papa, Painkillers, and The Cat and the Moon.
The 32-year-old actress cares for her body and her health now more than ever. She's been staying in shape by exercising on a regular basis and following a clean diet plan. According to reports, the actress maintains her slim figure now by going vegan. Now that she's in her 30s, Barton has decided it's time to give up animal products to focus on staying fit and healthy. It's not that difficult of a change for her considering she loves vegan foods. She's also into juice cleanses. Because of her recent diet choices, the actress enjoys a slender physique all while being strong.