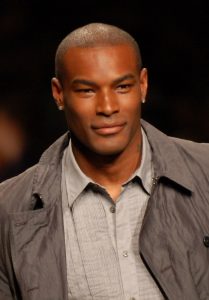 Tyson Beckford started his career as a model in the 1990s, during which he was named one of the "50 Most Beautiful People in the World". In the 2000s, he pursued acting, starting with the drama film Boricua's Bond. He next appeared as himself in the film Zoolander. He went on to appear in the movies Trois 2: Pandora's Box, Biker Boyz, Gas, Into the Blue, Kings of the Evening, and Hotel California. On television, he's made appearances on such TV shows as My Wife and Kids, Half & Half, Video on Trial, and America's Next Top Model.
In addition to his work on television and film, Beckford also often starred in music videos such as in Toni Braxton's "Breathe Again" and "Unbreak My Heart". He also starred in the music video of 50 Cent's single "21 Questions", Britney Spears's "Toxic", and Mariah Carey's "Infinity". In the 2010s, Beckford had performances in some movies. These include Dream Street, Addicted, Chocolate City, and Supermodel. In addition, the celebrity took on hosting with the Bravo reality series Make Me a Supermodel. He recently appeared as himself in the programs The Characters and Huge in France.
Tyson Beckford has been working out since he was 13. Establishing a sense of discipline when it comes to his workout routine started when he was young. Over time, he's increased the intensity of his workouts, enabling him to perform 1,000 crunches at one time. For his warm-ups, he usually does it with planks. ""Start with 15 seconds, then go to 30, then go to a minute—keep taking yourself to higher levels," advises the actor. While he's built his body through weightlifting, he's also tried calisthenics as an alternative when he's too busy to hit the gym. He also exercises by doing pushups, chin-ups, and dips.