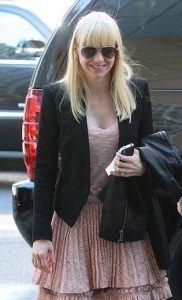 Hollywood star Anna Faris started her acting career in the early '90s during her teens. Her debut was on the TV film Deception: A Mother's Secret. Her career flourished in the 2000s after starring as Cindy Campbell in Scary Movie. She has since reprised her role in its sequels. She also starred in other films, including The Hot Chick, Southern Belles, Just Friends, and My Super Ex-Girlfriend. She went on to star as the lead in The House Bunny. In the 2010s, she starred in Yogi Bear and Take Me Home Tonight. She next starred in the romantic comedy alongside Chris Evans in What's Your Number?. She next played the female lead in the comedy The Dictator. She has also lent her voice as Sam Sparks in Cloudy with a Chance of Meatballs and its sequel. As of 2013, she stars as the lead Christy Plunkett on the sitcom Mom.
The comedic actress is not very fond of workouts, but she tries her best to be active as much as possible. She's tried yoga, but reveals how tough it is for her to clear her mind and be into it. She said: "I want to do yoga, which is so good for me, but when I have to be quiet, I just kind of go crazy. I put mental pressure on myself, like, 'Am I supposed to be feeling something? My mind is not clear. My mind is not clear.'"
When asked what workout moves she hates, she answered: "All of them. When I work out with Chris at home, we go through a little routine. He has me do lunges and stuff, and the lunges get hard after a while. It's really frustrating when someone you love is telling you how to improve your form!" Despite that, she still exercises by doing the basic steps.