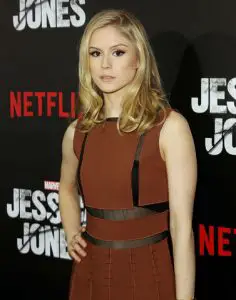 Erin Moriarty's Hollywood career began in 2010. She appeared as recurring character Whitney Bennett on the soap opera One Life to Live. After her debut stint, she landed a one-episode role on the long-running series Law & Order: Special Victims Unit. Shortly after, she also ventured into the big screen, debuting in the film The Watch. In 2013, she starred as Natalie Walraven on the short-lived series Red Widow. She also appeared as Kelly in the movie The Kings of Summer. Afterward, she played Audrey Hart in 3 episodes of True Detective, as well as played the role of Vivian in the film After the Dark.
She gained wider recognition for her role as Hope Shlottman on Netflix's Jessica Jones. Following this, she had roles in the films Blood Father and Within. She became better known for her supporting role in the film Captain Fantastic. Recently in 2018, she had performances in such films as The Miracle Season, The Extraordinary Journey of the Fakir, Driven, and Monster Party. It was announced that she was cast for the lead role Annie January / Starlight in the upcoming web series The Boys.
The 24-year-old's career seems to be taking off and that only means more work for her. As she becomes busier, it also becomes harder for her to find time to exercise. Nonetheless, the young actress doesn't follow a rigorous workout routine. She keeps it simple with cardio exercises like running and dancing. She also loves taking long walks and playing sports. When she's not busy, she engages in outdoor activities with her friends.
But with her landing the lead part in the upcoming superhero show The Boys, the actress knows she has to be more prepared on a physical level. That's why part of her getting ready is working out more often and adding a bit more intensity to her fitness regimen. She's also found that yoga and Pilates can help improve her strength and agility.