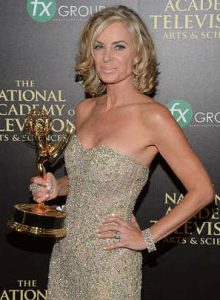 American actress Eileen Davidson started her Hollywood career in the 1980s, first debuting in the film Goin' All the Way! At the same time, she had her first television appearance on The Phoenix. She then became known for starring as Ashley Abbott on the soap opera The Young and the Restless, which she played from 1982-1988. She returned to the show playing the same character in the 2000s and 2010s. Also in the '80s, she had performances in the films The House on Sorority Row, Easy Wheels, and Eternity.
In the '90s, she starred as J.J. "Bullet" Tingreedes on the TV series Broken Badges. She also starred in other soap operas, including her role as Kelly Capwell on Santa Barbara, her multiple roles on Days of Our Lives, and as Ashley Abbott on The Bold and the Beautiful. In the 2010s, she had roles in the movies Hell and Mr. Fudge, The Guest House, and Walk to Vegas. She also ventured into reality TV, starring on The Real Housewives of Beverly Hills. In 2018, she starred in the made-for-television movie The Last Sharknado: It's About Time. She will star in the upcoming feature film Symphoria.
She's already nearing her 60s but it's surely not the case for The Real Housewives of Beverly Hills star — at least when it comes to her physical appearance. According to the actress and reality personality, she credits her youthful physique to her workout routine. "Working out is the best de-aging secret," she quipped.
She manages to find some time despite her crazy schedule in order to exercise because it's part of her healthy lifestyle. "My best beauty secret is I workout just about every day – one way or the other," said the actress. "I get on that elliptical and I do something called TRX, which is basically core body work with using your own body weight and a pulley system at the gym."