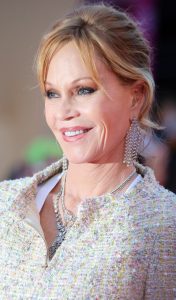 Hollywood star Melanie Griffith first appeared as an extra during the late 1960s. She got her breakthrough the following decade, first playing Delly Grastner in the 1975 film Night Moves. She went on to star in the films The Drowning Pool, Smile, and Joyride. During the '80s, she was praised for her performance as Holly Body in 1984's Body Double. Her role here also earned her a Golden Globe nomination for Best Supporting Actress.
She was then nominated for Best Actress at the Golden Globes for her work in 1986's Something Wild. Her performance as Tess McGill in 1988's Working Girl brought her to greater stardom. She also received her first Academy Award nomination for Best Actress and won her first Golden Globe. In the 1990s, she starred in the films Pacific Heights, Shining Through, Now and Then, Mulholland Falls, and Crazy in Alabama, among others.
During this period, she also starred as Dora DuFran in the miniseries Buffalo Girls, which got her a Golden Globe nomination. Her portrayal of actress Marion Davies in the TV movie RKO 281 earned her an Emmy nomination. In the 2000s, she became more active on television. She starred as Lee Arnold in the short-lived series Twins, as well as starred in the musical series Viva Laughlin. More recently, she starred in the films Day Out of Days, The Disaster Artist, and The Pirates of Somalia. Also, she had a recurring role in Hawaii Five-0 as Clara Williams.
At age 62, the actress maintains a fit body thanks to her diligent workout routine. Often posting her workout moves on her Instagram page, it's learned that her fitness regimen comprises of ab and arm work, lunges, cardio, and weights. In an interview, Griffith also shared that she's been working with her trainer for seven years. "He helps me keep my 50+11 year old body tight and strong," she said about her trainer.