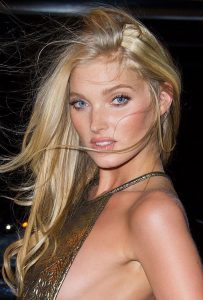 Swedish model Elsa Hosk started her career in her native Sweden during her early teens. By the time she was 14, she started doing professional modeling work. She did some work while in high school but decided it was best to focus on her studies. After graduating, she became a professional basketball player for the Swedish women's basketball league. However, she transitioned to modeling after two years, ultimately moving to New York. In the US, she became best known for her work as a Victoria's Secret Angel.
She has started modeling for the brand in 2011 and continues to do so until present. She has also appeared in various advertising campaigns, mostly for Victoria's Secret's PINK. In 2015, she became officially a Victoria's Secret Angel. Apart from this, she has also modeled for other international brands, including Dior, Dolce & Gabbana, and Guess, to name a few. In addition, models.com ranked her Number 15 on the Top Sexiest Models list. In 2018, Victoria's Secret selected her to wear the "Dream Angels" Fantasy Bra, which was worth $1 million. This, of course, gained her further attention.
While there's a stereotype that models starve themselves to maintain a skinny figure, it definitely isn't the case for Hosk. In an interview, she said that depriving herself of food is not something that's feasible for her. "I am really bad at being on a diet. As soon as I tell myself, 'You have to eat this or that,' I am going to do the exact opposite, so I didn't tell myself anything. I just tried to say away from processed food," she explained.
What she does is try to eat healthily most of the time. Portion control when eating is also crucial. Following a clean diet plan is especially important when there's a fashion show she needs to walk in. "Leading up to the show, I try to lay low and skip on eating out and late nights out because I know I will be tempted to eat things that are not clean and good for my body," said the model.