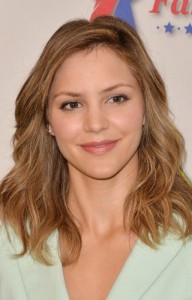 American Idol alumnus Katharine McPhee is both regarded as a talented singer and actress. After finishing second in American Idol's fifth season, she launched her career as a recording artist, releasing her debut album in 2007. Throughout her career as a singer, she has released four albums. Being interested in acting, she also tried performing in movies and television shows, making her first notable performance in The House Bunny (2008), followed by co-starring roles in You May Not Kiss the Bride and Shark Night 3D. Her first lead role on television was in the musical drama Smash, which ran for two seasons. After Smash, she began starring on the TV series Scorpion.
Standing at 5'8, the American Idol runner-up is noted for her slender figure. Since her beginnings in the reality series, Katharine has even looked more fabulous. Her secret? Amazing workout routine and healthy diet plan, which she focuses on equally to achieve best results. Though she's not a vegetarian, she mainly focuses on eating plenty of vegetables, fruits, and nuts. She also eats some lean chicken and fish, as long as they're not filled with carbs. To put it simply, she doesn't indulge herself on heavy meals.
For breakfast, the celebrity mostly have a scrambled egg and a whole grain toast. In between breakfast and lunch, she eats granola, fruits like apple and banana, almonds and peanut butter for snacks to satisfy her hunger. She then indulges with fish for lunch, specifically sautéed fish combined with steamed broccoli and spinach. To get more proteins for her body, she eats lean chicken or turkey for dinner. Apparently, given her nutritious diet plan, Katharine makes sure she receives sufficient nutrients for her body to absorb. Judging from how radiant, healthy, and fit she looks, she really treats her healthy eating habits seriously.