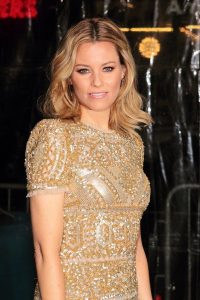 Elizabeth Banks began her acting career in the independent cinema. She appeared in the film Surrendering Dorothy in 1998. She was already in her mid 20s during this time. Her career became prolific in the 2000s, beginning with the comedy Wet Hot American Summer. She was then noticed for her role in The 40-Year-Old Virgin. In addition, she had a role in Spider-Man trilogy. On television, she was known for her roles on Scrubs and 30 Rock. In the 2010s, she's notable for her supporting roles in The Hunger Games films as Effie Trinket. She appeared in Pitch Perfect and its sequel Pitch Perfect 2 and also credited as producer. Pitch Perfect 2 was her directorial debut.
The 42-year-old actress still looks very youthful. It's also amazing how the mother of two has maintained her slender body all these years. Basically, Elizabeth looks heavenly because she takes care of herself well. She doesn't do anything that she knows will be bad for her health. She's aware that being in her 40s, it becomes more critical for her to be cautious of her eating and other physical habits or routines. Though it would seem hard for her to squeeze in some time for exercising, mainly because she's a mom, an actress, director, and producer, she actually finds the opportunity to exercise.
One thing she likes doing is hiking. She considers this a very effective way keep in shape while getting enough stamina. She typically goes hiking before lunch time. The actress said that hiking in Los Angeles is very common. She also has a personal trainer that helps her maintain her toned body. Her workout routines consist of combination of cardio, medicine balls, free weights, plyometrics, and TRX training. She also likes swimming, playing tennis, walking, and yoga. She often switches her routine everyday to avoid getting bored.