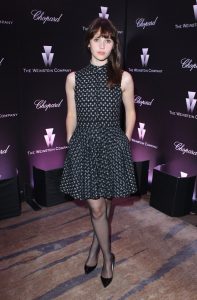 Academy-nominated Felicity Jones is one of the most promising actresses to enter Hollywood recently. Being from England, she started her acting career there and eventually made a name for herself in the UK screen. She first became known for her role on the TV series The Worst Witch and Weirdsister College. She next appeared on another TV show Servants. She had a hiatus for a couple of years and returned in the late 2000s in the TV movie Northanger Abbey and series Cape Wrath. On the big screen, she gained significant notice for her role in Like Crazy. She soon headed for a Hollywood career appearing in The Amazing Spider-Man 2. She portrayed Jane Wilde Hawking in The Theory of Everything. Her performance here gained her critical acclaim.
The actress is naturally slender, having been blessed with great genes. But it doesn't mean that she's complacent. She still makes sure she takes care of herself by eating right and exercising. She has mostly acted in dramatic roles, so her fans haven't seen her physical prowess. Still, she looks healthy despite her thin frame. Felicity is getting busier now that she's a known actress in the international scene. Despite this, she tries her best to keep herself busy with her workout routine to stay fit.
Fans are also crazy about her super toned arms. Interestingly, she's not strict when it comes to exercising. She takes it easy and doesn't force herself to exercise if she's already too tired. She has a relaxed attitude on exercising, which seems better than being so intense. When asked about her workout routine, the actress said she loves spending some time at an exercise place in East London. She signed up for classes in that place. Her favorite is to box fit. She's also fond of swimming and does yoga to unwind.