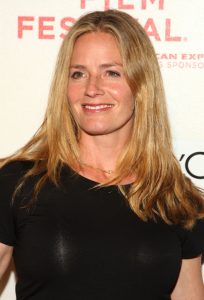 Actress Elisabeth Shue's career goes way back 1982 when she made her debut in the made-for-television film The Royal Romance of Charles and Diana. Afterward, she made her first film role in Somewhere, Tomorrow. From 1984 to 1985, she played her first starring role as Jackie Sarnac in the show Call to Glory. That same period, she became known for starring in the movie The Karate Kid. She later starred in the film Adventures in Babysitting. She then got her major breakthrough as Jennifer Parker in Back to the Future Part II in 1989 and Back to the Future Part III in 1990.
In 1995, she played the female lead in the movie Leaving Las Vegas. This got her an Academy Award nomination for Best Actress. She next starred in the films The Saint and Deconstructing Harry, among others. In the 2000s, she starred in the movies Hollow Man and Hide and Seek. She returned to primetime television in the 2010s, portraying Julie Finlay in CSI: Crime Scene Investigation from 2012 to 2015. She recently starred in the movies Battle of the Sexes and Death Wish. She will star in the upcoming movie Greyhound.
In order to keep her body fit and healthy, the film and TV star makes sure that she follows a healthy diet plan. She focuses on eating clean and whole foods, which means unprocessed. She avoids eating fast foods and other junk foods that are high in empty calories and added sugar. Not only are these fattening, they're also health risks and Elisabeth is trying to protect her body from any health issues.
This the reason the former CSI: Crime Scene Investigation focuses on eating lean proteins, whole grains oats, and cereals, as well as fruits and veggies. In an interview, she talked about what she eats when she's on set working. She said: "When I'm on the set, I always keep a crunchy snack on hand – rice cakes with apple spread or almond butter. I drink lots of water, sometimes with Emergen-C powdered supplements, and I also like Honest Tea."