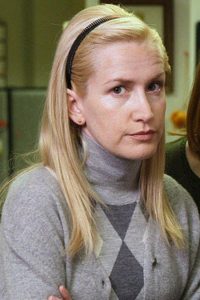 Hollywood star Angela Kinsey got her career start in the late 1990s making her debut in the series King of the Hill. In the 2000s, she first had made guest appearances in the shows All of Us and Run of the House. In 2005, she rose to mainstream fame for her role as Angela Martin in the hit comedy series The Office. She played the said role from 2005 to 2013. Simultaneously, she also ventured into movies. During this period, she had roles in the films License to Wed, Tripping Forward, Furry Vengeance, and Struck by Lightning.
She also reprised her role as Angela Martin in the spin-off The Office: The Accountants. After The Office ended, she appeared in the show Hollywood Game Night. She later played Rose in 4 episodes of New Girl. In 2014, she starred in the short-lived Hulu series The Hotwives of Orlando. More recently, she starred in the short-lived shows Your Family or Mine and Haters Back Off. She's also appeared in the movies Laid in America, Slash, and Half Magic. This year, she guest-starred in an episode of Fresh Off the Boat.
According to the 47-year-old actress, she does not really follow a specific diet. She also doesn't try any of those fad diets. She doesn't like to deprive herself but it also doesn't mean that she's not cautious of what she eats because she is. When it comes to her diet, she just does the basics and that is to focus on eating foods that have the nutrients to nourish her body.
She also doesn't diet even when there are red carpet evens she has to attend to. Many celebrities don't eat a lot or eat at all in order to wear fit gowns but the comedic actress isn't one of them. Aside from eating healthily, she also tries her best to drink plenty of water at all times.