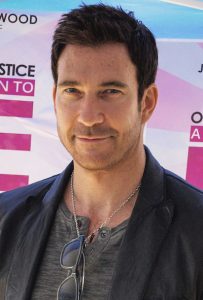 Dylan McDermott's acting career spans decades, first appearing in the 1987 film Hamburger Hill. He next played supporting parts in the movies The Blue Iguana, Twister, Steel Magnolias, and Hardware. The following decade, he landed more acting parts on the big screen. During this period, he starred in such feature films as Where Sleeping Dogs Lie. Jersey Girl, In the Line of Fire, Miracle on 34th Street, and 'Til There Was You, among others.
He later became widely known for his starring role as Bobby Donnell in the legal drama series The Practice. During the 2000s, he also starred in the movies Texas Rangers, Party Monster, The Tenants, Edison, and The Messengers. He went on to portray David Lind in the film Wonderland. From 2007 to 2008, he starred as Duncan Collinsworth in ABC's Big Shots. After this, he played Carter Shaw in TNT's Dark Blue. In the 2010s, he starred in the films Burning Palms, The Perks of Being a Wallflower, Olympus Has Fallen, and Behaving Badly.
He also became known for starring as Dr. Ben Harmon in American Horror Story: Murder House. He's since starred in the anthology series, playing different roles – Johnny Morgan in American Horror Story: Asylum and Bruce in American Horror Story: 1984. To add, McDermott starred as Duncan Carlisle in CBS' Hostages and Detective Jack Larsen in Stalker. Recently, he played Clint Bergman in the CBS All Access series No Activity and Ernie West in Netflix's Hollywood. He stars in the upcoming movie King Richard.
Dylan McDermott is nearly in his 60s. It surely doesn't show considering how youthful he looks, which he credits to his workout routine and diet plan. When preparing for a role that requires that he improves his body and overall fitness, he goes to the gym more often and watches what he eats. While he's not into following a strict diet, he makes sure that he mostly has lean proteins, complex carbs, and healthy fats. Thus, he increases his consumption of plant-based proteins like soya and nuts, fish, chicken, as well as brown rice, quinoa, and fish, among others.