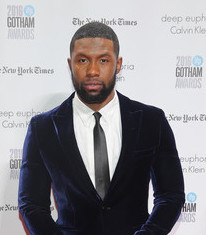 Hollywood actor Trevante Rhodes first landed a role in the short film I Came Back. It came out in 2012. Two years later, he made his cinematic debut in the movie Open Windows. At the same time, he had his first television role in an episode of Gang Related. He next landed acting jobs in the films The Night Is Young, Lady Luck, and Shangri-La Suite. On television, he played recurring character Ramsey Walters in the TV drama If Loving You Is Wrong.
In 2016, Rhodes rose to fame for his portrayal of Chiron (a.k.a. Black) in the award-winning film Moonlight. He won the Outstanding Breakthrough Performance award at the Black Reel Awards. During this period, he also appeared in an episode of Westworld. He subsequently starred in several other films, including Burning Sands and Smartass. In 2018, the actor starred in the movies 12 Strong, The Predator, and Bird Box. He was cast for the part of Jimmy Fletcher in the upcoming film The United States Vs. Billie Holiday.
In an interview with Men's Health, Trevante Rhodes got candid about his workout routine. To work "out efficiently, he opts doing it early in the morning. "I wake up at 4:30, I meditate, then I go to the gym for a couple hours, do abs, whatever muscle that is for the day, we jog, and we start our day at eight," said the actor.
Exercising in the morning significantly increases his energy that he feels he can do anything. " jog on the treadmill with the lights off, man. It's just peaceful, you know? I know it sounds strange, but it's so quiet, I feel like you can breathe," he shared. Just like everyone else, getting up early for a workout session can be hard sometimes. Still, he reminds himself that getting an early workout makes him feel good throughout the day, encouraging him to get up and just do it.