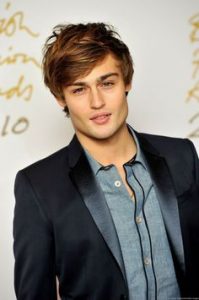 English actor Douglas Booth naturally started his career on UK television. His debut was in the 2006 low-budget film Hunters of the Kahri. It then took him a few years to land his second acting gig in the British film From Time to Time. His portrayal of Boy George on the TV movie Worried About the Boy got him attention. Around the same time, he acted on the miniseries The Pillars of the Earth. He next played Pip in the miniseries Great Expectations. His first lead role was as Romeo Montague in the 2013 remake of Romeo and Juliet. He has since starred in the movies Noah, Jupiter Ascending, and Pride and Prejudice and Zombies. He also recently starred on the miniseries And Then There Were None.
At age 24, Douglas has managed to establish his acting career not just in UK, but also in Hollywood. His upcoming projects are a proof of that. Standing at 6'1, the actor is also noticeable for his physical presence. He appears to be fit and lean at the same. Looking at him, he's the combination of gentle and hunky. When asked what exercise he's good at doing, he said it's horseback riding. He considers riding on a horse a great workout actually.
He said in an interview: "The next day your core is really sore – if you haven't done it for a while, it feels like you've done a big leg and core workout." He reveals that though he's not a great technical rider, he's been doing this since he was a kid. He admitted his fondness of mountain bikes, too, and how a bad accident has stopped him from doing it in the present. The actor also revealed that he'd bulk up for a role if necessary. He had lost weight for a part, but not gain weight. At least not yet.