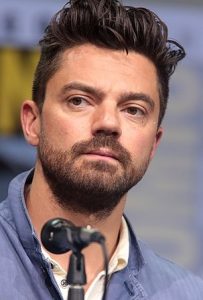 Dominic Cooper first appeared in the 2001 film From Hell. That same year, he also had his first television role in The Infinite Worlds of H. G. Wells. He next appeared in the movies The Gentleman Thief and Starter for 10 before gaining notice for his performance in the 2006 feature The History Boys. He next portrayed Mr. Willoughby in the miniseries Sense and Sensibility.
At the same time, he portrayed Charles Grey in The Duchess and Sky in the musical film Mamma Mia! He next starred in the films Freefall and An Education. In the 2010s, he co-starred in the film Tamara Drewe and played Howard Stark in Captain America: The First Avenger. He also portrayed Milton H. Greene in the drama film My Week with Marilyn.
Cooper went on to star in the films Abraham Lincoln: Vampire Hunter, Dead Man Down, Reasonable Doubt, Need for Speed, and Dracula Untold. In 2014, he played Ian Fleming in the miniseries Fleming: The Man Who Would Be Bond. He reprised his role as Howard Stark in the TV series Agent Carter. From 2016 to 2019, he starred as the lead – Jesse Custer – in AMC's Preacher. He simultaneously starred in the movies Warcraft, Stratton, and The Escape as well. The actor also reprised his role as Sky in 2018's Mamma Mia! Here We Go Again.
Dominic Cooper took up Pilates in order to strengthen his core, adding to his workout routine. As for his diet, the actor has a fast metabolism so he doesn't really follow any strict diet plans. He eats whatever he wants, nonetheless he also acknowledges the fact that focusing on healthy foods brings tons of health benefits. As he's working out constantly, it's only right for him to incorporate nutritious eating habits into his lifestyle to maximize the results of his fitness regimen. Hence, he mostly eats lean meat, complex carbs, and plenty of veggies and fruits.