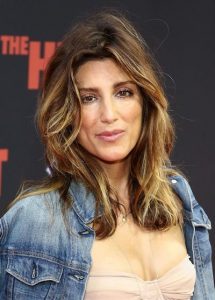 In 1995, Jennifer Esposito debuted playing the role of Connie Soleito in the TV series The City. She then gained recognition for her role as Stacey Paterno in ABC's Spin City, which she starred in from 1997 to 1999. During this period, she also had roles in the films A Brother's Kiss, Kiss Me, Guido, Side Streets, and I Still Know What You Did Last Summer.
In the 2000s, she initially starred in the films Dracula 2000, Don't Say a Word, and Breakin' All the Rules. In 2004, she starred in the award-winning movie Crash. She also starred in the comedy film Taxi. After this, she played recurring character Louann "Crystal" Turner in Judging Amy, as well as starred as Ginnie Sorelli in Related. From 2007 to 2009, she starred as Andrea Belladonna in the sitcom Samantha Who?
In the 2010s, she starred as Detective Jackie Curatola in NBC's Blue Bloods. Following this, she starred as Monica Pena in NBC's Taxi Brooklyn, Calista Raines in the soap opera Mistresses, and NCIS Special Agent Alexandra "Alex" Quinn in NCIS. She also played Nina Solloway in some episodes of The Affair. Esposito recently played Susan Raynor, a recurring character in Prime Video's The Boys. Her other films were Bending the Rules, She's Funny That Way, Mary, and Mob Town.
In her late 40s, Jennifer Esposito stays in top shape by following a clean diet and keeping herself active. In general, she's laid-back when it comes to her diet and fitness. She eats healthy but not to the point of depriving herself of food.
The same goes for her workout routine. She keeps things simple. She does cardio and regular stretches with the addition of yoga and Pilates into her fitness regimen. "At least 30 minutes on the treadmill and the elliptical, plus some weight training," the actress said about her exercises.