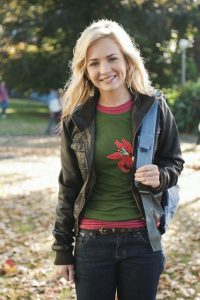 Britt Robertson was a 10-year-old girl when she made her debut on TV with her first notable role on the TV film Growing Pains: Return of the Seavers. Her career became more prolific in the late 2000s with a recurring role on Swingtown and a main role on the short-lived show Life Unexpected as well as the lead star on The Secret Circle. She gained wider recognition for her role on Under the Dome. Around the same time, she also had several roles on the big screen such as in Scream 4, Avalon High, Delivery Man, and Cake. She went on to have lead roles in Tomorrowland and The Longest Ride.
The petite actress continues to draw a colorful career in Hollywood with her starring roles in the movies getting more frequent. For her role in Tomorrowland, she even beat so many young actresses for the said part. Another thing about her is that even though she's tiny with her thin frame, Britt's radiance is contagious even when she's just on the screen. Even with that tiny body of her, she's very energetic and healthy at the same time. It is because despite looking frail, the actress is actually fit and healthy.
Working out to prepare for Tomorrowland, she ended up recognizing the importance of keeping healthy through active lifestyle and healthy eating. She makes sure she loads herself with nutritious food first thing in the morning. She usually has eggs, bread, and fruits for breakfast, then turns to yogurt and fruit shakes for snacks. She then either has fish and chicken for lunch with rice or pasta, same thing for dinner. In every meal, she always has veggies and fruits. Being young, she loves food and takes pleasure in eating the ones she love, like burgers and cupcakes, but she's careful about not eating too much of these.