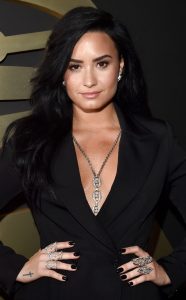 American singer and actress Demi Lovato was a child actress early on. Her first work was on Barney & Friends. She continued her acting career and rose to fame as a teenager. This is all thanks to her starring role in the Disney TV film Camp Rock. With this, she subsequently started her recording career after being signed to Hollywood Records. Her first album was called Don't Forget. It reached Number 2 on Billboard 200. She later returned to television acting with Disney's Sonny with a Chance. Her second album, Here We Go Again, was more successful as it charted Number 1 on Billboard 200. She had personal issues that she battled with before releasing her third album Unbroken. She has since released her subsequent albums: Demi and Confident.
It's no secret that Demi faced body issues in the late 2000s that halted her career for some time. In 2010, she entered rehab for depression, self-harm, and an eating disorder. But throughout the years, she was able to come out stronger and more confident of her body and herself in general. Basically, turning to a healthy lifestyle was her primary key to getting better. She changed her diet, started working out, and just embracing her curves. With her will to recovery, she did and came out even stronger. Her career even flourished.
With embracing the real her, she had to alter her thinking. She said: "I realized I'd rather be strong and happy than be what society thinks is thin and perfect and be miserable." Working out is her healthiest habit. She even attributes her physical and mental recovery to exercising. When she's on tour, she naturally is exercising because of the performances she does. But when she's not, she works out once in the morning and once at night. When she's on the road, she exercises through indoor cycling. She believes that her workouts have given her her energy and endurance that she needs as a performer and as a person who takes care of herself.