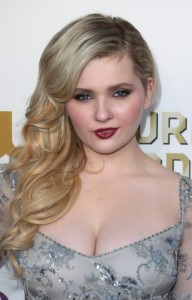 American actress Abigail Breslin was only six when she began acting on the screen. Her debut on the big screen was actually remarkable, having played Mel Gibson's daughter in the 2002 movie Signs. The attention she got from this film led her to be cast in other well-known feature films, such as in Raising Helen, though it was in the 2006 film Little Miss Sunshine that got her acclaim, a performance that got her an Oscar nomination for Best Supporting Actress. Since then, she played starring roles in several movies, notably in No Reservations, Kit Kittredge: An American Girl, and Zombieland. Her productive acting career continued in the next decade with performances in Janie Jones, New Year's Eve, Ender's Game, and August: Osage County. Her most recent work on the cinema are Perfect Sisters and Maggie. She has recently transitioned into television, playing a starring role on the TV series Scream Queens.
The 19-year-old actress is now a grown-up and is looking even more attractive. Puberty has really worked in her favor. Standing at 5'1, the petite actress is proud of her curvaceous body, making her more physically remarkable. Due to her young age, Abigail doesn't follow any specific diets yet. She enjoys being young by indulging herself of her favorite foods. Still, the young actress makes sure she balances it out with nutritious foods at the same time.
As a busy celebrity who has film and TV projects, she needs all the nutrients she could get in order to do her work as a performer with ease.
She not only needs energy but also some glow, which can be given by healthy foods. For this reason, Abigal opts healthy foods most of the time especially that she also has to keep her weight on check. She likes eating fish and chicken as her source of proteins while also having fruits and veggies like broccoli and mushrooms. In addition, she has egg whites, manchego, pecorino, and sweet potatoes for addition nutrients. She also likes to snack on yogurt to ensure a healthy digestion.