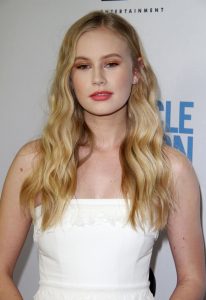 Hollywood star Danika Yarosh first appeared in the 2004 film The Stepford Wives, marking her acting debut. Her next role came about six years later, only pursuing acting in the 2010s. During this period, she initially performed in a couple of short films. She also made her first television appearance in an episode of Celebrity Ghost Stories. She went on to have one-episode roles on 30 Rock, In Plain Sight, as well as in the TV films A Christmas Wedding Tail and Retribution.
In 2012, she had a role in the movie Tar. She subsequently had recurring roles as Olivia on See Dad Run and Holly Herkimer on Shameless. She later gained wider recognition after starring as Malina Bennett on Heroes Reborn. In 2016, she played Samantha Dutton in the film Jack Reacher: Never Go Back, co-starring Tom Cruise. In 2018, she had performances in the movies The Miracle Season and Back Roads. She recently plays the role of Brooke Osmond on the Netflix series Greenhouse Academy. She also starred on the new series Deadly Switch.
Despite her young age, the up and coming actress knows she needs to stick to a healthy diet plan. Doing so guarantees she maintains her slender and toned body. Apart from this, the young star likes how great she feels from the inside out when she only eats healthy. She doesn't follow any fad or strict diets, though. She's only mindful of what she eats.
For breakfast, it's usually an egg for her with toast. In between meals, she has fruits, yogurt or shakes. This helps her stave off hunger to avoid overeating. For lunch and dinner, she usually has fish or chicken for proteins and rice or pasta with some veggies. She makes sure her diet is also mainly plant-based, so she incorporates lots of fruits and veggies into her meals.